Peds Reads
Monthly book recommendations for parents, toddlers, and school age children. [Pediatrician approved and recommended]
Reading to your child daily stimulates brain development and is one of the single best things you can do to help your child succeed in school. The importance of reading aloud to your son or daughter, starting at birth, can not be overstated. With this in mind, East Cobb Pediatrics & Adolescent Medicine is pleased to introduce our new monthly feature: Peds Reads.
SEPTEMBER 2020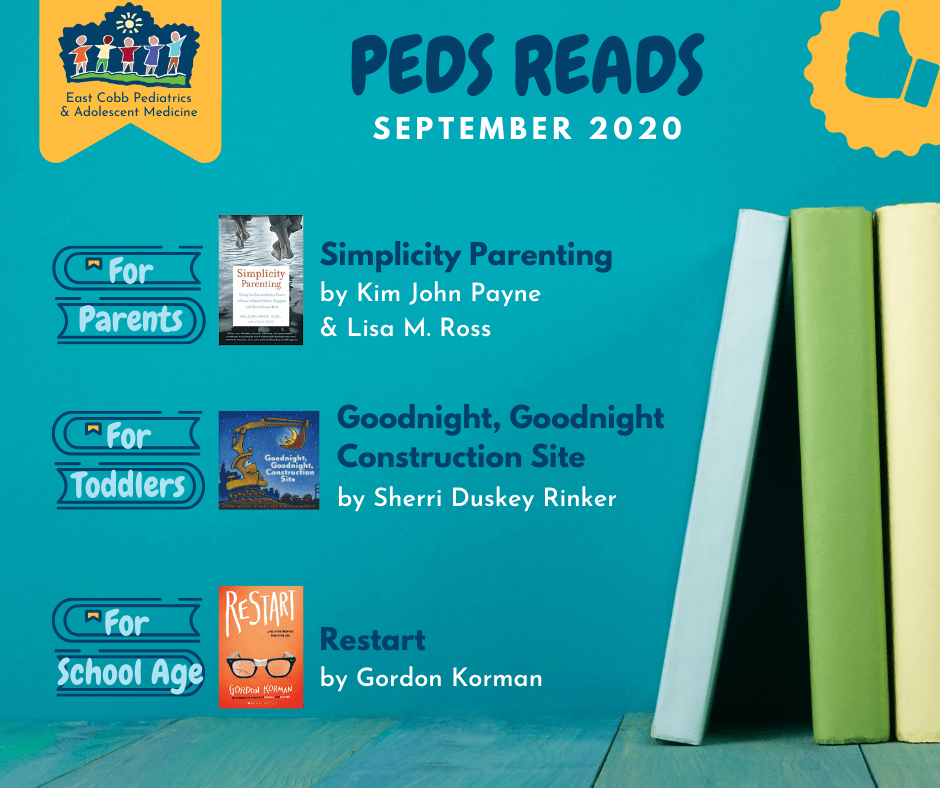 Books for Parents:
Parents are challenged today as they raise their children… they are challenged with this busier faster world. Children are faced with too much stuff, too many choices and too little time to just play.  This then causes anxiety, difficulty with friendships, school and trouble with behavior.  Read this enlightening book and take a step back to let kids be kids.

Recommended by Sharon Lebedin
Books for Toddlers:
In this New York Times Bestseller, Sherri Duskey Rinker takes young readers through an evening journey as their favorite construction vehicles turn off their engines and say goodnight. Beautiful illustrations by Tom Lichtenheld keep readers of all ages engaged in the story. Young readers will enjoy this tale night after night as they say "Goodnight, Goodnight, Construction Site."

Recommended by Dr. Badwan
Books for School Age Children:
Chase doesn't remember falling off the roof. He doesn't remember hitting his head. He doesn't remember anything. He wakes up in a hospital room and suddenly has to relearn his whole life. When he returns to school, he sees that different children respond to him differently – some treat him like a hero and others are scared of him. Soon enough, it's not a matter of who Chase is, but who he was and who he is going to be. Gordon Korman has outdone himself again in this humorous, intriguing and compelling read!

Recommended by Dr. Megahed
AUGUST 2020
This month's books are brought to you by Dr. McGahee (and her children!)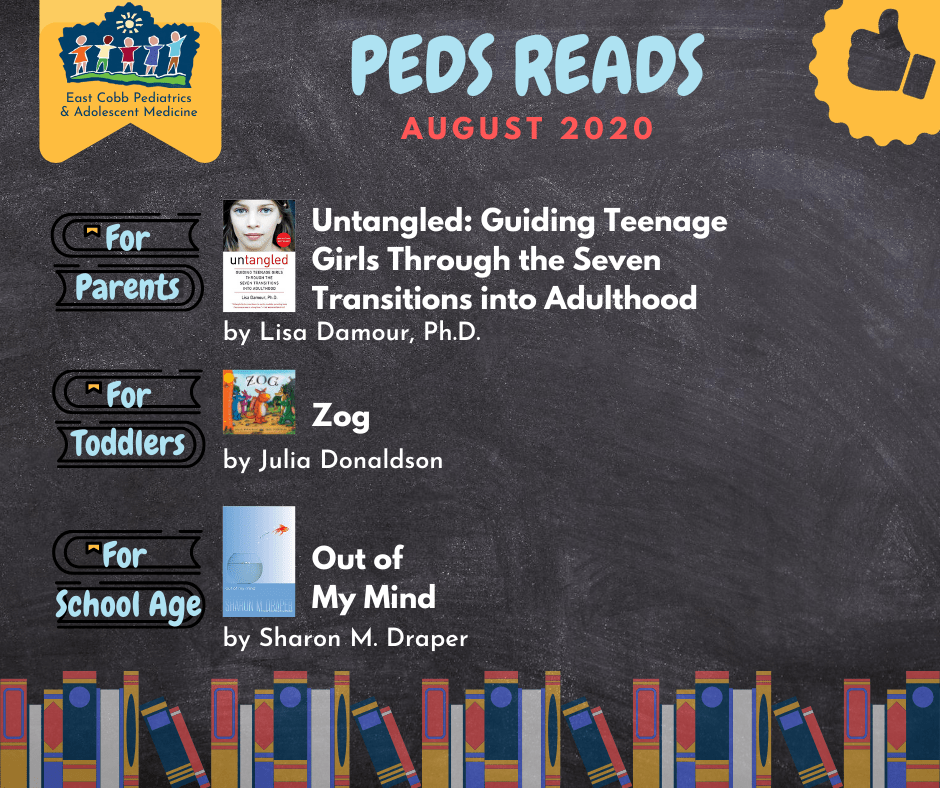 When a friend reached out to a group of Pediatricians on Facebook about how to help her daughter navigate adolescence, one book was recommended time and time again: untangled by Lisa Damour. I immediately ordered a copy, and I am happy to say this book has more than exceeded my expectations. In this highly informative guide for parents, Dr. Damour discusses the seven individual developmental transitions girls experience as they move from children to adults. With funny stories, practical tips, and answers to just about every question you might have, Dr. Damour delves not only into case studies, but also provides parents with the latest research involving teenagers. I have learned so much from Dr. Damour, and I believe this is a "must read" for anyone who parents or works with young girls.
A dragon, a princess, and a knight……this sounds like the recipe for a typical fairy tale, right? As it turns out, Zog just can't seem to fit in at dragon school, and Princess Pearl is anything but your average damsel-in-distress. Zog is my go-to story when I am a mystery reader for daycares, and I have yet to find a child who doesn't enjoy this captivating tale. The bright illustrations and rhyming in this story will appeal to toddlers, so don't be surprised if you find your child requesting this book over and over again! Donaldson is one of my favorite children's authors, and I also highly recommended Zog's sequel and her other books.
Books for School Age Children:
This novel was recommended to me by my daughter, and I have to say, she nailed her recommendation! Fans of Wonder by R.J. Palacio will also enjoy this moving story about Melody, an 11 year old young lady with the inability to walk or talk. Even though most people assume she isn't smart, Melody is able to prove them all wrong. I love this story because it is told from Melody's point of view, and I think it goes a long way towards teaching children in late elementary school how to empathize with others.
——-
***ENTER OUR FACEBOOK GIVEAWAY FOR A CHANCE TO WIN ONE OF THIS MONTH'S BOOKS***
We will randomly select three winners to receive a free copy of the book of their choice from this month's selections. Winner's will be announced on our Facebook page at the end of the month.