Peds Reads
Monthly pediatrician approved and recommended books for parents, toddlers, and school age children.
Reading to your child daily stimulates brain development and is one of the single best things you can do to help your child succeed in school. The importance of reading aloud to your child, starting at birth, can not be overstated. With this in mind, East Cobb Pediatrics & Adolescent Medicine is pleased to introduce our monthly feature: Peds Reads.
SUMMER 2021
Book Recommendations for Kids by Kids
Brought to you by the children of Dr.McGahee, Dr. Badwan, Dr. Heine, and Dr. Gadea.
Click on each book for more information & purchasing options!

MAY 2021

Books for Parents:
Jim Trelease's Read-Aloud Handbook, updated and revised by education specialist Cyndi Giorgis, discusses the benefits, the rewards, and the importance of reading aloud to children of a new generation. Supported by delightful anecdotes as well as the latest research, an updated treasury of book recommendations curated with an eye for diversity, Jim Trelease's Read-Aloud Handbook offers proven techniques and strategies for helping children of all backgrounds and abilities discover the pleasures of reading and setting them on the road to becoming lifelong readers.
Recommended by Dr. McGahee
Books for Toddlers:
Giraffes Can't Dance is a touching tale of Gerald the giraffe, who wants nothing more than to dance. With crooked knees and thin legs, it's harder for a giraffe than you would think. Gerald is finally able to dance to his own tune when he gets some encouraging words from an unlikely friend. With light-footed rhymes and high-stepping illustrations, this tale is gentle inspiration for every child with dreams of greatness.
Recommended by Dr. McGahee
Books for School Age Children:
Grace and Ellie have been best friends since the second grade. Ellie's always right in the center of things and Grace is usually happy to be her sidekick. What happens when everything changes?

This time it's Grace who suddenly has everyone's attention when she accidentally starts a new fad over buttons at school – a fad that might get her in trouble and could even be the end of their friendship. Can they restore their friendship?
Recommended by Dr. Megahed
APRIL 2021
April is Autism Acceptance Month, so we are highlighting books that help spread awareness, promote acceptance, and celebrate differences.
Check out the Autism Society's website to learn more about Autism Acceptance Month. 
Here are 17 additional books that promote understanding of autism– fostering awareness and empathy for kids on the spectrum.
The following books are recommended by Dr. McGahee.

Books for Parents:
Over 100,000 parents have found the facts they need about high-functioning autism spectrum disorder (ASD), including Asperger syndrome, in this indispensable guide. Leading experts show how you can work with your child's unique impairments–and harness his or her capabilities. Vivid stories and real-world examples illustrate ways to help kids with ASD relate more comfortably to peers, learn the rules of appropriate behavior, and succeed in school. You'll learn how ASD is diagnosed and what treatments and educational supports really work. Updated with the latest research and resources, the second edition clearly explains the implications of the DSM-5 diagnostic changes.
Books for Pre-Schoolers to Early School Age Children:
Autism is not just one thing.  Every child with Autism is unique and has their own individual strengths and needs.  "Autism Is…?" was written by Wideman-van der Laan to help explain Autism to her grandson, who is on the Autism Spectrum.  If you wish to discuss Autism with your young child, this book can be a good place to start.
Books for School Age Children:
Empathy is the ability to notice how other people feel, and "Stand In My Shoes" is a great way to start discussing empathy with your children.  Teaching children empathy will enrich their relationships with others and help them appreciate the unique strengths and differences of people in their world.
MARCH 2021
We are celebrating Women's History Month by highlighting women authors for our March Peds Reads. If you would like more book recommendations for Women's History Month, here are some additional resources for you and your family to explore:
Without further ado, here are our picks for this month's Peds Reads:

Books for Parents:
In Food Fights, the authors tastefully blend the science of nutrition and pediatrics with the practical insights of parents who have been in your shoes?offering simple solutions for your daily nutritional challenges. Whether you've got an infant, toddler, or young child, Food Fights promises entertaining, reality-based advice on:

How to pick your battles (and arm yourself accordingly)
Whining and dining, throwing food, and other dietary distractions
Heaping helpings, TV dinners, fast food, and other nutritional minefields
Eating out, grocery shopping, and travel
The 5-second rule
Drinking and dozing, juice, soda pop, and other classic drinking problems
Sick kids, vitamins, body weight, allergies, constipation, spitting up…and so much more!
Recommended by Dr. McGahee
Books for Toddlers:
Nibbles the Book Monster is on the loose, and he's chomping through all of your favorite fairy tales! Will anything or anyone be able to stop him?

With books within the book, Emma Yarlett's utterly appealing artwork, and lots and lots of nibbled holes, this laugh-out-loud funny and ferocious charmer's unstoppable appetite for the printed page will nibble a hole right through your heart.
Recommended by Dr. McGahee
Books for School Age Children:
A bizarre chain of events begins when sixteen unlikely people gather for the reading of Samuel W. Westing's will. And though no one knows why the eccentric, game-loving millionaire has chosen a virtual stranger—and a possible murderer—to inherit his vast fortune, on things for sure: Sam Westing may be dead…but that won't stop him from playing one last game!
Recommended by one of our awesome patients
FEBRUARY 2021
In honor of Black History Month, we'd like to use our platform to feature black authors and creators for February's Peds Reads. For those looking to diversify their bookshelves, here are a few books we recommend you add to your list. While we should be recognizing and celebrating the achievements of black authors, creators, musicians, and educators all throughout the year, Black History Month provides us with the opportunity to devote some time to learning something new and to amplify the voices of people of color.
For more resources, here is an excerpt taken from the Huffington Post:
"Children's books are famously bad at embracing diversity. In 2016, the Cooperative Children's Book Center at the University of Wisconsin-Madison found that out of 3,400 kids' books, fewer than one-quarter of them featured a main character who was black, Asian, Latino or Native American. So it's vital that parents share the books that are available with their kids.
Luckily, there are many helpful resources putting these titles within close reach. For Black History Month, Lee & Low Books, a multicultural children's book publisher, offers helpful book recommendations. Every day in February, The Brown Bookshelf highlights a different black author or illustrator and their work. Helping Kids Rise also participates in a #ReadingBlackout (an initiative to read books by black authors) at the encouragement of YouTuber Denise Cooper."

Books for Young Adults (Mature Readers Only):
It's Trevor Noah: Born a Crime is an adaptation of Trevor Noah's adult memoir, specifically adapted for young adult readers. In this book, Trevor discusses his life growing up as a child of mixed race in South Africa, where it was against the law for a mixed race child to even exist. His stories will have you both laughing out loud at his childhood antics as well as crying at the atrocities he experienced. Because this book does briefly mention sex and drugs, some parents might prefer to read it ahead of time to decide if it's right for their teen.
Books for Toddlers:
It's never too early to start reading to your child, and it is never too early to start important discussions about celebrating our differences. Professor Kendi spoke last October at the American Academy of Pediatrics' virtual conference and is an award-winning author. You can also see Antiracist Baby featured as a part of the Netflix show "Bookmarks: Celebrating Black Voices!"
Books for School Age Children:
Bud, Not Buddy is a historical fiction novel set in Michigan in the 1930's. When Bud is put into yet another foster home, he decides to go searching for his father. Readers will learn of the difficulties encountered during The Great Depression, and will be pleased to find that Bud– who is intelligent, courageous, and hopeful– gets his happy ending!
JANUARY 2021

Books for Parents:
Help prepare the children and teens in your life to face life's challenges with grace and grit. In this award-winning guide author and pediatrician Dr. Ken Ginsburg shares his 7 crucial Cs: competence, confidence, connection, character, contribution, coping, and control. You'll discover how to incorporate these concepts into your parenting style and communication strategies, thereby strengthening your connection. And that connection will position you to guide your child to bounce back from life's challenges and forge a meaningful and successful life. You'll also learn detailed coping strategies to help children and teenagers deal with the stresses of academic pressure, media messages, peer pressure, and family tension. These approaches will prepare children to thrive and make it less likely that they will turn to risky quick fixes and haphazard solutions. Resilience is a critical life skill. And it can be taught! Learn how with Building Resilience in Children and Teens.
Recommended by Dr. McGahee
Books for Toddlers:
From the same author and illustrator as the #1 nationally best-selling What Do You Do With an Idea? comes a new book to encourage you to look closely at problems and discover the possibilities they can hold.

This is the story of a persistent problem and the child who isn't so sure what to make of it. The longer the problem is avoided, the bigger it seems to get. But when the child finally musters up the courage to face it, the problem turns out to be something quite different than it appeared.

What Do You Do With a Problem? is a story for anyone, at any age, who has ever had a problem that they wished would go away. It's a story to inspire you to look closely at that problem and to find out why it's here. Because you might discover something amazing about your problem… and yourself.
Recommended by Dr. McGahee
Books for School Age Children:
This is an inspiring collection that profiles men and women who resist tyranny, fought the odds and stood up to bullies who threatened to harm their communities. Along with their portraits and most memorable quotes, their stories will inspire you to speak out and rise up.

You may only be one person, but you have the power to change the world.
Recommended by Dr. Megahed
DECEMBER 2020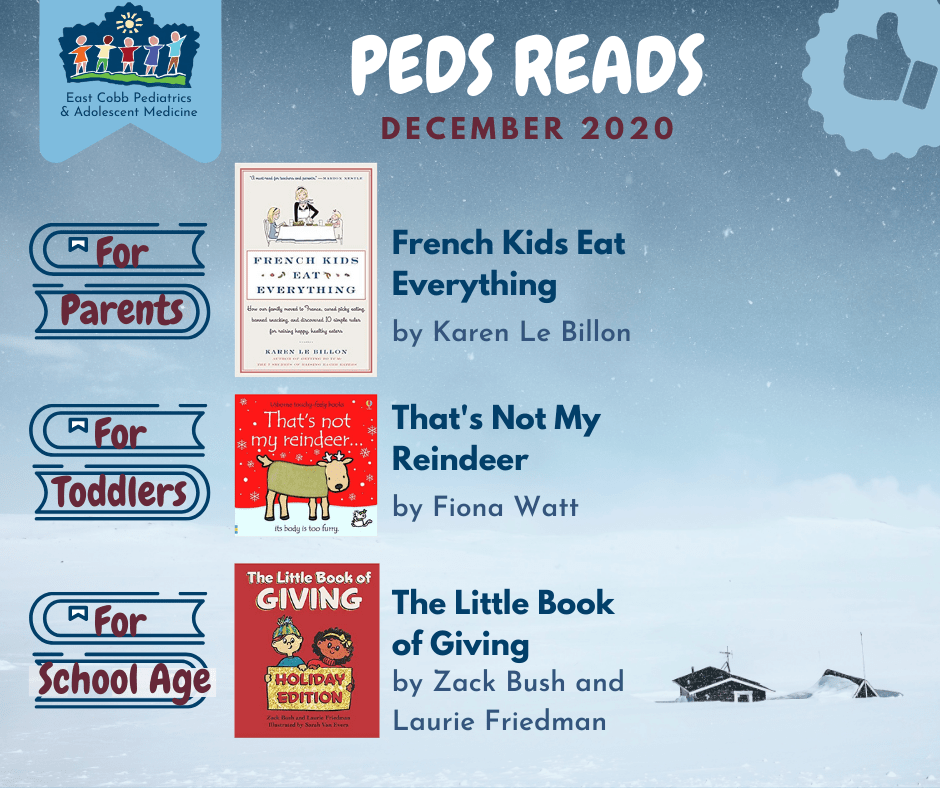 Books for Parents:
In this book, Le Billon talks about how her family moved to France, cured picky eating, banned snacking, and discovered 10 simple rules for raising happy, healthy eaters. This is a great read for any parents hoping to expand their children's palates and improve their eating habits.

Recommended by Barbara Cossman
Books for Toddlers:
Very young children will delight in meeting the soft and furry reindeer in this colorful touchy-feely book. With simple, repetitive text on every page, children will enjoy joining in and exploring the textures, including a fuzzy neck, velvety ears and a hairy tail.

Recommended by Dr. McGahee
Books for School Age Children:
The Little Book of Giving is a children's book about the importance of giving, giving for the holiday season, and giving from the heart for kids ages 3-10 (preschool, kindergarten, first grade). Holiday time is a special time. It means food, fun, family, and gifts! When kids think of giftsfor the holidays, they almost always think of presents that come wrapped up in a box with a bow. But The Little Book of Giving will change all that! There are so many gifts kids can give that make the holidaysextra special—gifts that don't cost money and that come straight from your heart. Giving is an essential social skill that everyone should learn early in life. This book teaches young readers about a host of ways to give of themselves—especially during the holidays.  The Little Book of Giving provides ideas and strategies for giving that can be used in real-life situations at home, at school, and in the communities where kids live.

Recommended by Dr. McGahee
NOVEMBER 2020
This month's books are brought to you by Dr. McGahee (and her children!)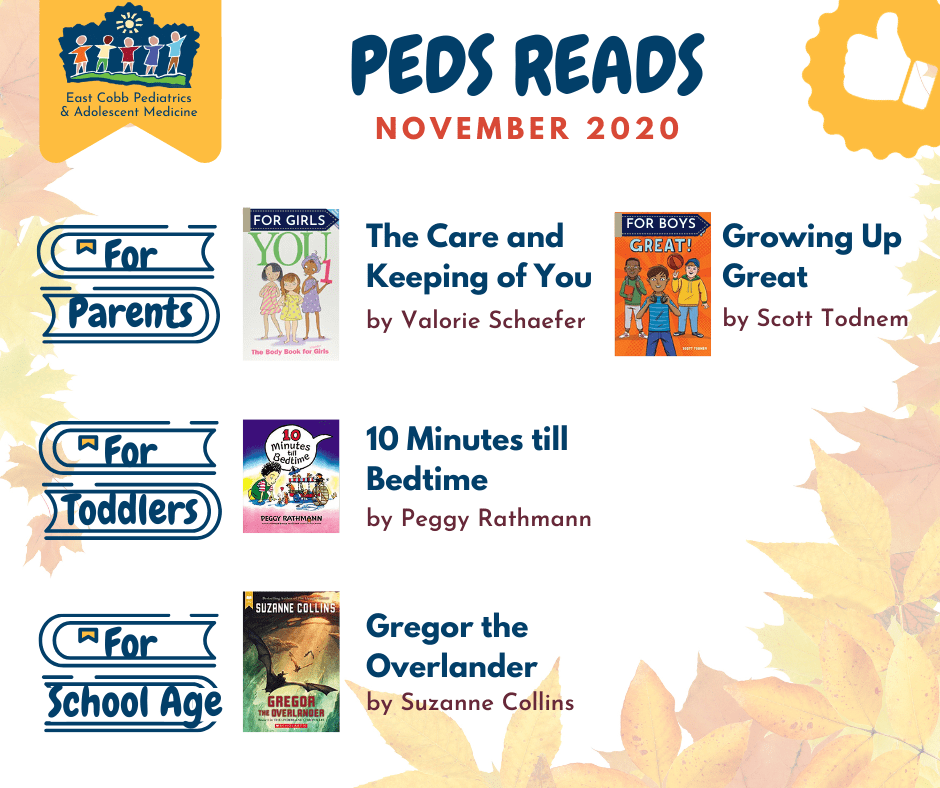 Did you know that one of the best things you can do to promote a love of reading in your child is to read to them everyday?  A great bedtime routine is to follow the "Bs:" take a Bath, Brush the teeth, read a Book, then go to Bed! 

10 Minutes till Bedtime

is a fantastic book by Peggy Rathmann, the author of the very popular

Good Night, Gorilla

.  Like

Good Night Gorilla,

this book doesn't have many words, which allows parents and children to make up their own storylines as they "read" through the pages. 

10 Minutes till Bedtime

is sure to get some laughs when a whole troupe of hamsters joins a boy and his pet hamster for their bedtime routine.
Books for School Age Children:
Gregor the Overlander is a lesser known series by Suzanne Collins, author of The Hunger Games.  This novel is for readers around the ages of 4th to 7th grade, and the whole series is suspenseful and full of action!  The main character Gregor accidentally discovers The Underland, a place where creepy crawly insects and pests like rats co-exist with humans.  The Underland is on the brink of war and Gregor has a role to play in the future of this hidden world.
OCTOBER 2020
This month's books are brought to you by Dr. McGahee (and her children!)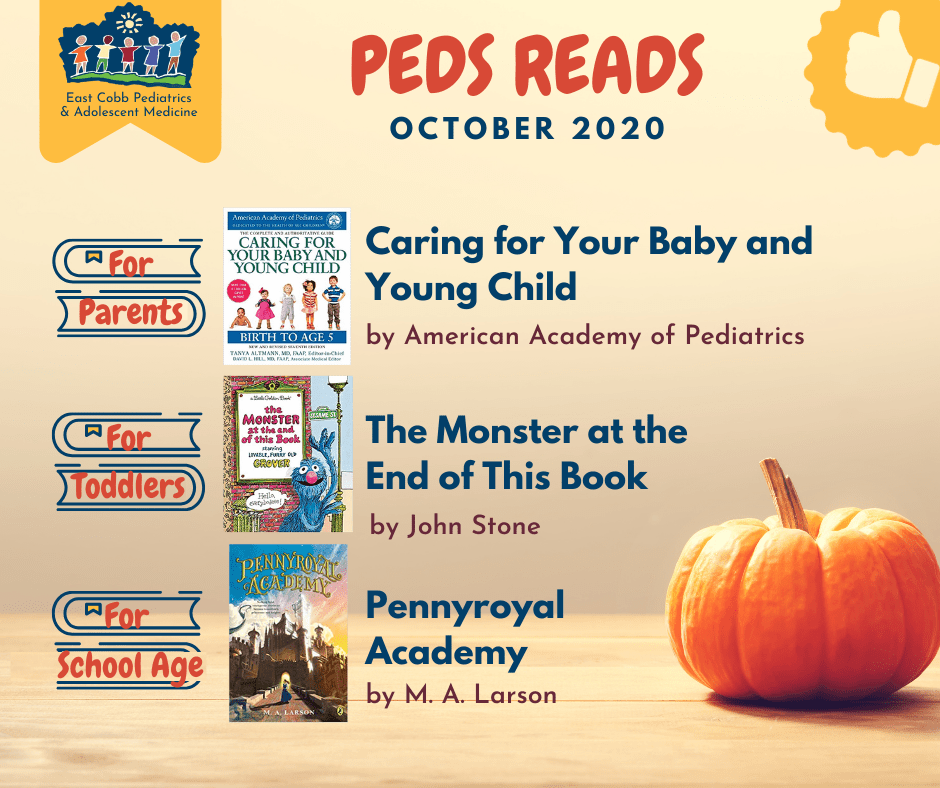 This comprehensive guide and essential resource covers everything a parent needs to know in caring for their infant and young child.  Topics include basic care, normal developmental milestones, signs of healthy development, nutrition recommendations, safety standards, an updated media chapter, and common illnesses.  This book is published by The American Academy of Pediatrics and is routinely recommended by pediatricians.
This not-so-scary monster book is very fun to read out loud and is perfect for Halloween.   Parents and toddlers will giggle at Grover's antics as he begs and begs the reader not to turn each page….because a monster is at the end of the book!  The monster turns out to be none other than Grover himself.
Books for School Age Children:
Perfect for fans of adventure, Pennyroyal Academy tells the story of Evie, who is not your ordinary princess.  In Evie's world, princesses attend the Academy and are trained to battle against witches and dragons.  Rumor has it that Reese Witherspoon's production company has purchased rights to this series of novels and will be producing a movie adaptation in the future.  As Reese says, "No one rescues Pennyroyal princesses; they rescue themselves."
SEPTEMBER 2020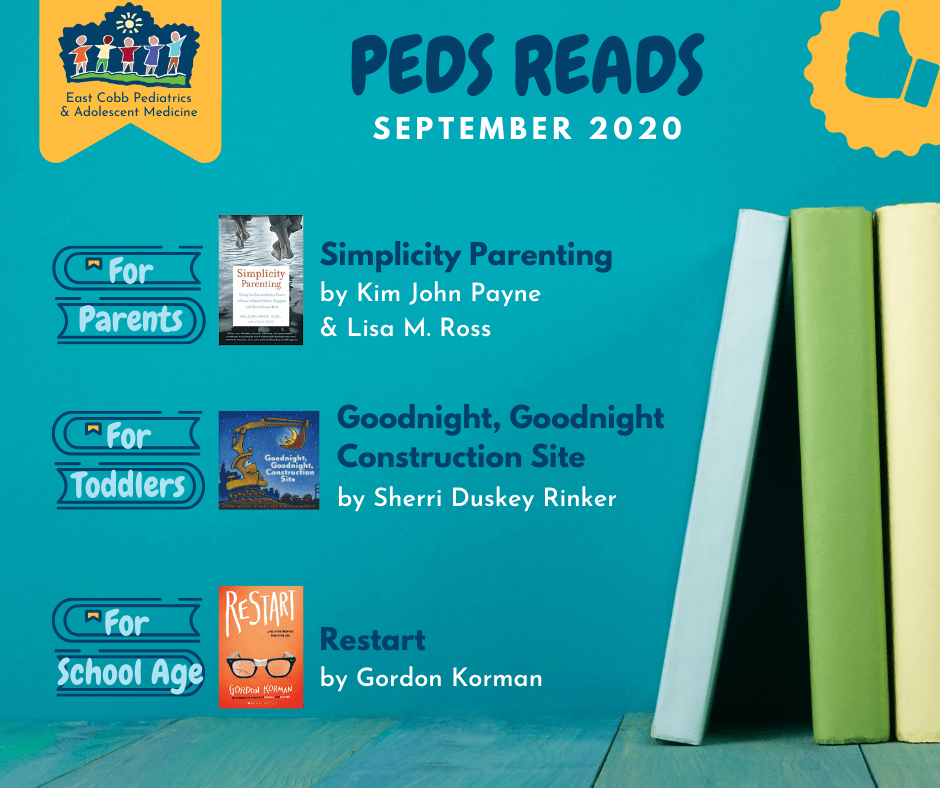 Books for Parents:
Parents are challenged today as they raise their children… they are challenged with this busier faster world. Children are faced with too much stuff, too many choices and too little time to just play.  This then causes anxiety, difficulty with friendships, school and trouble with behavior.  Read this enlightening book and take a step back to let kids be kids.

Recommended by Sharon Lebedin
Books for Toddlers:
In this New York Times Bestseller, Sherri Duskey Rinker takes young readers through an evening journey as their favorite construction vehicles turn off their engines and say goodnight. Beautiful illustrations by Tom Lichtenheld keep readers of all ages engaged in the story. Young readers will enjoy this tale night after night as they say "Goodnight, Goodnight, Construction Site."

Recommended by Dr. Badwan
Books for School Age Children:
Chase doesn't remember falling off the roof. He doesn't remember hitting his head. He doesn't remember anything. He wakes up in a hospital room and suddenly has to relearn his whole life. When he returns to school, he sees that different children respond to him differently – some treat him like a hero and others are scared of him. Soon enough, it's not a matter of who Chase is, but who he was and who he is going to be. Gordon Korman has outdone himself again in this humorous, intriguing and compelling read!

Recommended by Dr. Megahed
AUGUST 2020
This month's books are brought to you by Dr. McGahee (and her children!)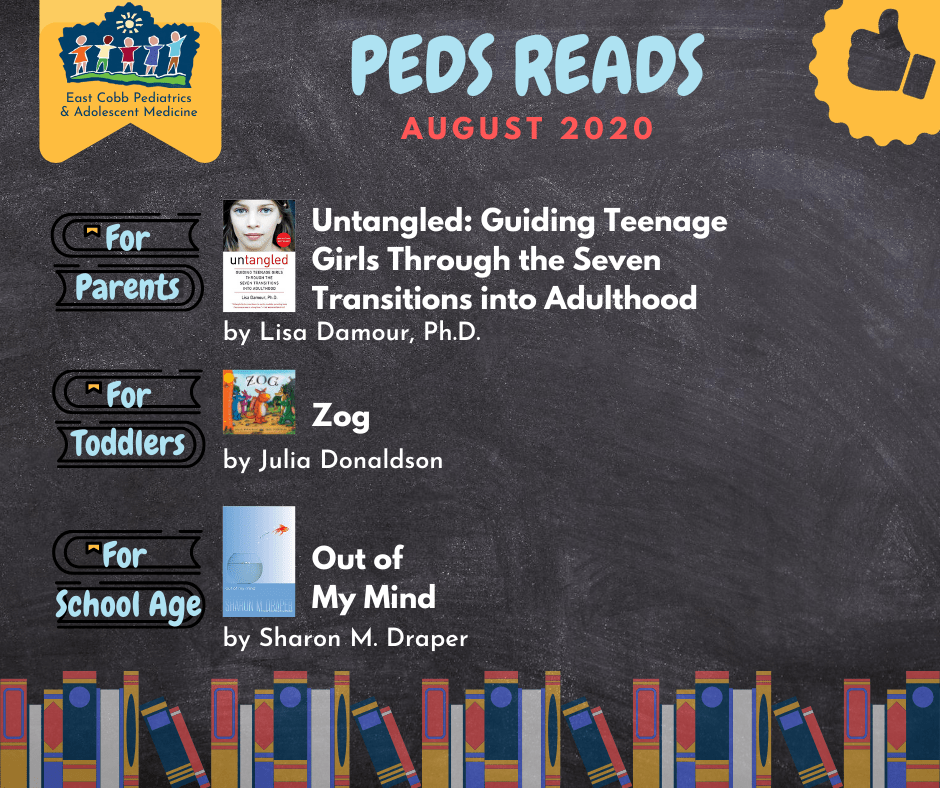 When a friend reached out to a group of Pediatricians on Facebook about how to help her daughter navigate adolescence, one book was recommended time and time again: untangled by Lisa Damour. I immediately ordered a copy, and I am happy to say this book has more than exceeded my expectations. In this highly informative guide for parents, Dr. Damour discusses the seven individual developmental transitions girls experience as they move from children to adults. With funny stories, practical tips, and answers to just about every question you might have, Dr. Damour delves not only into case studies, but also provides parents with the latest research involving teenagers. I have learned so much from Dr. Damour, and I believe this is a "must read" for anyone who parents or works with young girls.
A dragon, a princess, and a knight……this sounds like the recipe for a typical fairy tale, right? As it turns out, Zog just can't seem to fit in at dragon school, and Princess Pearl is anything but your average damsel-in-distress. Zog is my go-to story when I am a mystery reader for daycares, and I have yet to find a child who doesn't enjoy this captivating tale. The bright illustrations and rhyming in this story will appeal to toddlers, so don't be surprised if you find your child requesting this book over and over again! Donaldson is one of my favorite children's authors, and I also highly recommended Zog's sequel and her other books.
Books for School Age Children:
This novel was recommended to me by my daughter, and I have to say, she nailed her recommendation! Fans of Wonder by R.J. Palacio will also enjoy this moving story about Melody, an 11 year old young lady with the inability to walk or talk. Even though most people assume she isn't smart, Melody is able to prove them all wrong. I love this story because it is told from Melody's point of view, and I think it goes a long way towards teaching children in late elementary school how to empathize with others.
——-
***ENTER OUR FACEBOOK GIVEAWAY FOR A CHANCE TO WIN ONE OF THIS MONTH'S BOOKS***
We will randomly select three winners to receive a free copy of the book of their choice from this month's selections. Winners will be announced on our Facebook page at the end of the month.