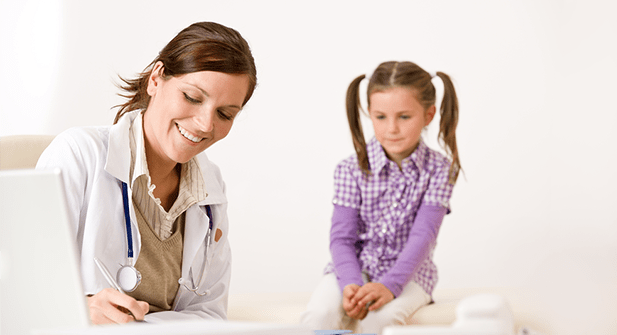 Prescriptions
Q: How do I get a refill on my child's medication?
• Maintenance Medications (medications that your child takes on a regular basis – example;ADHD meds,Asthma meds.) – One option is that you can call the office and ask for the prescription refill line, there you can leave all the information required and have the med called into your pharmacy or arrange for pick up at the office.
Medications such as Concerta, Focalin, Adderall, Vyvanse (ADHD meds) cannot be called or faxed into your pharmacy you will need to pick them up from the front desk of our office.
Your other option for requesting a refill is to visit our "Online Services" section. Once you have created an account you can go to the prescription refill option and request your refill there. Using "Online Services" will be the fastest way to request your prescription and it also has the added benefit of a message back almost immediately letting you know that your request has been received and when it will be ready for pick up or when you can expect it to be called into your pharmacy. All requests left on the prescription refill line require 24 hours for processing.
If you have an emergency, such as your child is out of their asthma medication and needs it refill right away, please do not leave this as a message on the prescription line. You will want to call the office and ask to speak to a nurse for this type of request to insure it is processed immediately.
• Antibiotics- We do not typically refill antibiotics. If you feel your child requires more antibiotics please call the office and speak with a nurse who can help determine whether more antibiotics are needed or whether your child should come in for a visit.
---
Q: I just took my child's prescription to the pharmacy and it's not covered by my insurance company, or it requires a Prior Authorization.
• Depending on which office your child visits you will need to ask for the correct department to help you with this matter. If your child normally visits our Marietta location ask for Jennifer Collins, if your child normally visits the Kennesaw location ask to speak with a nurse, these staff members handle all of the prior authorizations for medications and can also help determine if the medication can be changed to something else that might be covered by your insurance company.
Prior Authorizations typically take any where from 1 to 3 business days for processing. Prior Authorizations are required by your insurance company usually because there is another medication on the market similar to the medication your child has been prescribed that the insurance company prefers, or the medication is a new product, or it is just too expensive and the insurance company wants to know a reason why the medication was chosen.
Prior Authorizations require that specific paperwork be completed for your insurance company explaining why the medication was chosen, what other medications have been tried and why this medication should be covered. Once this paperwork is received by your insurance company it is evaluated by an Prior Authorization committee and approved or denied at that time one of our staff members will either receive a phone call with the approval or denial or a fax and you and/or the pharmacy will be notified of the insurance company's decision.
---
Q: I think my child may need ADHD medication, what do I do?
• If you suspect that your child may have ADHD you will want to print out our ADHD packet. This packet of paperwork is for you as the parent to complete and there is also paperwork that you can give to your child's teachers to complete. Once this packet of paperwork is completed and turned back into the office you will schedule an appointment for a "Parent Consult". This visit is for just the parents, the child need not come to the office for this visit. You will visit with one of our highly knowledgable providers and discuss your child's symptoms.
If the determination is made that your child has ADHD you will be asked to schedule an appointment for a "Medication Setup". This time your child will come in and visit with one of our providers and may be written a prescription for medication. If your child is diagnosed with ADHD and is placed on medication your child will need to be seen in our office every 3 to 6 months for a "Medication Check" to make sure that your child is doing well on the medication. At the "Medication Check" visit your child will see a provider, their height, weight and blood pressure will be checked as well as their overall well being. There will be a questionaire to complete regarding how you think your child is doing on their medication and how your child is feeling will be discussed. This will be the visit in which changes to the medication can be made as far as type of medication, strength and doseage.
ADHD medication refill requests require 24 hours for processing. You will want to call our office and ask for the prescription refill line, or sign into our "Online Services" to put in your request. Most all ADHD medications are controlled substances and therefore require a new paper prescription each and every time it is refilled. These prescriptions will need to be picked up from our front desk.
Once it is established that your child will be taking ADHD medication and the right medication is found and your child is stabilized you may want to sign up for our "AUTO REFILL"service. Please click here to find out more.
---
Q: My insurance now requires that we use a mail order service for our prescriptions and the prescriptions have to be written for a 90 day supply. What do I do?
• A lot of insurance companies are changing to these types of services and requiring patients to mail in prescriptions to mail order services. We are aware of this and we are very willing to help you. The type of prescription that you would mail in to a mail order service is a maintenance medication such as an allergy medication, asthma medication or ADHD medication.
Simply call into our office to make this request or use our "Online Services" as mentioned above. Let us know of the change to your insurance and that you need a 90 day supply. This prescription will need to be picked up from our front office and then you can mail it in. Keep in mind that all requests of this nature require 24 hours for processing.
Also keep in mind that it will take a week or two for your insurance company to receive your mailed in prescription, to process it and then mail it back to you. If you're running low on medication prior to mailing in the prescription to your mail order pharmacy you may also want to request a 30 day supply to have filled locally so that your child will not run out. If you have a question that was not answered here, please do not hesitate to give our office a call and we'll try to find the answer for you!