*NEW* Online Bill-Pay Available Tuesday July 10th!
4 years ago
Beginning Tuesday July 10th we will have a new, faster, easier way for you to pay your bill!
"My Pay" is a new system that gives you the ability to pay your bill quickly and easily. Simply use the "Guest Pay" feature and all you have to do is enter the account number of the patient and the amount you want to pay along with Payment type information and you're all set!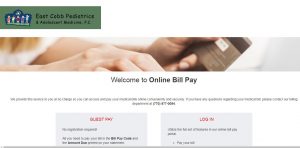 For full functionality of the features "My Pay" has to offer you can choose to create an account. Creating an account will allow you to print statements and year end information as well as see your past payments with ease from your laptop or other device.
E-Statements AVAILABLE! You can sign up to receive electronic statements rather than paper in the regular mail now. Your e-statement  will be delivered directly to your email inbox eliminating one more piece of paper you have to deal with! You can sign up for this service at the front desk or online when you create and account with "My Pay".
We think this is a pleasant improvement and hope that you will find it as useful and easy as we do!
Posted: 4 years ago
By: Sophia