COVID-19 Info
Pfizer COVID Vaccine available for children 12+ at both East Cobb Pediatrics locations
We have received a limited amount of the Pfizer COVID vaccine. This vaccine is for 12 years of age and older.
At this time, we will be giving the vaccine to established patients only. Please call the office, starting June 1st, 2021, to schedule your child's Pfizer COVID Vaccine.
COVID-19 testing available at both East Cobb Pediatrics locations
We offer COVID testing at East Cobb Pediatrics. However, due to unusually high demand, we may not be able to accommodate all of our patients on any certain day.Here is a list of local COVID testing sites: COVID Testing Sites [Provided by Children's Healthcare of Atlanta]
Safety Measures
During this COVID pandemic, East Cobb Pediatrics, knows that families are concerned about their safety. We can assure you that we share that concern. Our practice has taken the following steps, with regards to the American Academy of Pediatrics and the CDC guidelines to enhance our cleaning practices:
Wearing Personal Protection
Promoting universal protection including masks and gloves
Requiring all staff members, patients, and families to wear masks on arrival
Enhancing Office Cleanliness and Reducing Contact
Enhancing all cleaning practices on high touch surfaces (doorknobs, exam tables)
Reducing contact by creating a physical distancing barrier between the front desk and patients
Offering online / no contact check-in from the car and payment with Phreesia
Social Distancing

Scheduling well, sick and the most vulnerable patients at specific times of day to keep them separated
Offering all patients to check in at the desk or by phone upon arrival and return to their vehicle until visit
Redirecting those with mild symptoms to phone consultation or Telehealth (if available)
When you arrive at our office:
Please give the office a call and press the star key. Our front desk will check you in remotely and then a nurse will call you when it is time to come in for your child's visit.

ONLY 1 parent may accompany a patient into the office for a visit for patients over the age of 6 months.
Anyone over the age of 2 is required to wear a mask.
Please note, our office is now CLOSED Saturdays.
COVID-19 Resources: 
Fighting Flu During COVID-19 Times:
Because of the COVID-19 pandemic, it's more important than ever to do everything possible to reduce the spread of flu.
CDC urges you to take the following preventive actions to protect yourself and others from flu.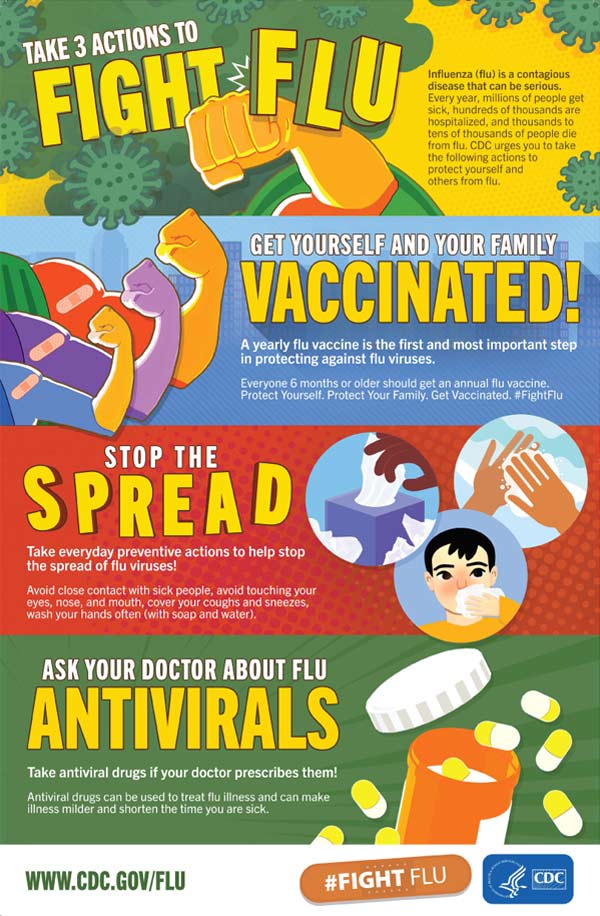 Remember to wear a mask, maintain social distance, and wash your hands!
As always if you have any questions, please give our office a call. We're here to help!