FLU SHOTS!
1 year ago
We are giving flu shots to our established patients, on a first come, first serve basis during a daily walk-in clinic. Your child can be seen during the following times:
Monday through Thursday 8:30am to 5:30pm
We are closed from 1pm to 2pm each day for lunch.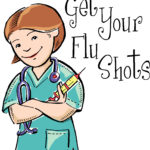 No walk in flu shots on Fridays. We can only administer the flu shot to our current patients. We are not able to give the flu shot to parents at this time due to a shortage.
Posted: 1 year ago
By: Jennifer